Frequently Asked Questions
Q: There seems to be rotting wood below the roof meets the log wall. What could have caused this?
A: We see logs with rot in areas like this in our inspections of log homes. Upper roof lines are particularly difficult to provide good water management. At the same time, if the water coming off the roof is not properly taken care of, deterioration of finishes as well as rot can occur.

There is a proper way to flash an upper roof line to a lower one. Click here to see a PDF on how this is done. Click here for a drawing of the proper way to flash an upper log wall to a lower roof system. Properly installed and clean gutters can also help in keeping the water off the logs.

Here a curb is created so that water running down the roof does not run directly against the logs in this area. A freeboard is also created so that during the winter, snow and ice are not held directly against the logs.
Here you can see the discoloration of the log ends due to the moisture they have been exposed to. Logs exposed to these conditions WILL ROT - it is only a matter of time.
In this situation, we replaced the rotted logs and cut in the flashing so that this new flashing detail could be installed.
Q: Should I consider using synthetic chinking on my old log home rather than the original mortar chinking?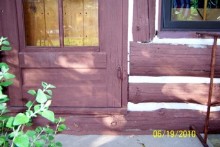 A: Many older log homes have had mortar chinking installed over the years. Mortar chinking was mainly used from the 1950's through the 1980's. The problem with this type of chinking is twofold: One, it does not make a proper seal between the logs and two, it tends to hold moisture up against the logs, possibly adding to the potential for rot.
Today, we use synthetic chinking such as PermaChink.  This "modern" chinking has much the same appearance as the old mortar but unlike mortar, it will seal completely and not soak up moisture, which can cause logs to rot. Many times, we can apply new chink over existing mortar chinking but in other situations, the mortar chink needs to be removed before the synthetic chink can be installed. 
Q: I have some rot issues around my cantilevered deck. What can be done?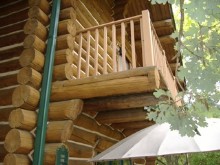 A: Cantilevered log decks are a potential area for problems with rotten logs. We run into this type of deck a number of times each year. A cantilever deck is a deck that is supported by a log that sticks through a wall (on the outside) and supports a deck. These decks are usually located on the second floor of a log home and most times are small in size.   

The problem is that most of the time, they are constructed with pine logs that are designed or allowed to stick right out beyond the roof line where they are exposed to the weather. They take on so much moisture that they become susceptible to rot.   When these logs begin to rot, it often happens very fast.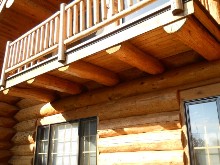 This one was built right. Notice the drip edging around the perimeter. These logs underneath see very little water. Built to last.
In our assessment, there are basically three options for the home owner:
1) The deck can be removed. This is an option but leaves you with the problem of what to do with a "door to nowhere" 


2) The length of the extending logs can be shortened enough to get them inside the drip line. This means cutting them back typically between 12" and 24", which eliminates the rotted portion of log. Usually with this option, the railings can be modified and used again.   
3) Convert the deck into a roof. To do this, we take off the railings and decking, make a new platform and create a flat roof.




Q: I am considering using log railings for the deck on my log home. What are the pros and cons to that?
A: Aesthetically, log railings look great on log homes but there is a down side to them. Click here to find out more.
Q: How do I recognize a rotted log?
A: A solid log has a clear ring when tapped with a small hammer but you will hear a dull thump if you tap a rotted log in the same way. Also see Why Do Logs Rot?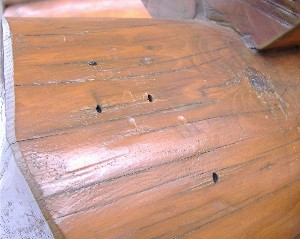 Q: I see little pinholes in a log in my cabin and sometimes there is sawdust below it? What does this mean?
A:These holes have likely been caused by a wood boring insect. The two main types of wood boring insects that we have in the upper Midwest (which infect already cut down trees)are the carpenter ant and the powderpost beetle. Powderpost beetles make very small holes typically the size of pencil lead. Carpenter ants and bees are also prevalent in the upper Midwest. These ants make holes more the size of the pencil itself. Both insects can only eat and digest wood that is rotted to one degree or another. So (and this is important) insects are not the root cause of rot. Water is the root cause of rot (see Why Do Logs Rot for more information). If you have holes in your logs that are 1/8" to 5/16" in diameter, you likely have insects infesting your logs, but more importantly you likely have rot and this is a bigger, more pressing problem. The good thing about repairing the rotted areas of these logs is that, once the rotted area is gone/removed and replaced with new wood, the insects move on because there is nothing left for them to eat. Both types of insects can be controlled with boron compounds (see Log Home Borate Treatment). Mix up the borate preservative according to instructions then use a glue syringe to squirt a small amount into each hole. To close the hole, dab a bit of caulk on each one. Note: if you live in an area of the country that has termites, your holes could be from these wood boring insects. You need to contact an exterminator to try to figure out what to do. Termites can cause structural damage on their own in a very short period of time. Log homes and termites do not mix and you will likely need to do treatments around the home to keep the termites away.
Q: Why can't I just paint my log cabin?
A: These photos below tell the story of why painting log homes is not recommended.
| | | |
| --- | --- | --- |
| | | |
| Layers of paint build up and don't allow the logs to breath. Eventually, the paint peals and no longer protects the logs. In this situation, the logs had to be sandblasted and a new finish applied. Click here to find out more about how we solve this problem. | | In this case, the paint buildup caused significant rot. The rotten logs needed to be replaced and the building needed blasting to remove the layers of paint. There are many reasons why logs rot. This is a common one. Click here to learn more about why logs rot. |
Q: I have Sikkens finish on my building and it seems to have a build up of the stain. It is pealing and/or black behind the Sikkens? What is happening and what can be done?
A: This type of build up is a problem because it does not allow the logs to breath properly and moisture gets trapped between the log and the build up or "shell" of finish. Check out what happened to this log home as a result of this problem.

Q: I see rot at the bottoms of my log posts. What can be done to prevent or fix this problem?
A: It is very important to provide adequate airflow under and around your log columns or posts. Cedar logs are the most rot resistant wood to use where the logs are directly out in the weather. We use a combination of tactics to prevent decay in these exposed and vulnerable posts. First, we use a stand off base to get airflow around the base of the post. We use borates on particularly rot- susceptible areas of the posts to further insure against decay. See below for some photo illustrations of decay on these posts and what we do to prevent this rot.
| | | |
| --- | --- | --- |
| | | |
| This Pine post was surrounded by mulch and soil, the footing was poured below grade so the bottom of the post was allowed to soak up moisture. | | As you can see these conditions caused the post to eventually rot. |
| | | |
| | | |
| This type of rot will eventually cause the post to collapse. | | Here is a correctly installed Western cedar post. It is above grade and has a galvanized steel spacer installed (Simpson PBV10) between the post and the footing. |
Q: What type of wood do you use for your replacement logs?
A. We replace rotten logs in log homes and cabins with Eastern and Western red cedar and tamarack. We use these species because of their natural resistance to rot and decay. For more information on why we use these types of wood, click here.
Q: What are my options for plugging the gaps between my logs?
A : You can use silicon latex caulk or synthetic chinking. Gaps larger than 3/8" should be filled with chink. (See Chinking)
Q: How far will you travel for a log restoration project?
A: Anywhere in the USA. We are located in Wisconsin. 75% of our projects are in Minnesota and Wisconsin. Our work has taken us from the upper Midwest to the North Rim of the Grand Canyon, to Vermont, and south to Florida. We especially like Florida projects during our winter months. We can say with confidence that no one has the level of expertise that our company has when it comes to repairing and restoring log homes. IT'S ALL WE DO! Contact us
Q: What's happening when my windows and doors get stuck and become difficult to open or close?
A: Probably, your logs have settled or the foundation has moved slightly. Either of these problems can be solved if you don't wait too long.
Q: Is there any log that can't be replaced in a log house?
A: No. We have replaced logs in virtually any spot from the sill log to ridgepole. However, some are more complicated than others to replace and take more time and ingenuity to replace. (See Replacing Logs)
Q: How do I know if my cabin needs to have a finish applied?
A: Squirt a small amount of water on the logs in several different areas. If beads of water do not form on the surface, it needs finish or stain. Flaking and peeling also indicate a problem with your finish. If a stain on a log building is peeling or flaking, it may need to be removed in order to expose a suitable surface for the stain to adhere to. (See Cob and Sandblasting)
In most cases, we do not power wash buildings to remove failed stains and coatings. One reason is that moisture is the cause of rot and most times adding moisture in combination with pressure is a recipe for disaster with log homes and cabins. (See Why Logs Rot?)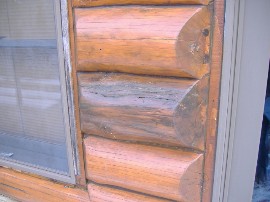 Q: I see that an area on my log house where the logs are darkening and the log seems to be soft in this area. What is happening?
Basically what is happening is that moisture is building up behind the finish and causing the log to rot.  Too much finish can form an impermeable layer on the surface of the log.  Moisture (in the form of rain) is always making its way into the logs - most likely through a crack or check on the surface. Once inside the log, it soaks into the wood. Then when the rain stops, the moisture tries to make its way out that crack again AND since the moisture has dissipated into the log's core - it is also trying to make its way out via the entire surface of the log.  Now, the moisture content is high in the log.
Note: In this photo, notice the up-facing cracks that let the moisture in and the finish build up that would not let it out. This eventually caused this log to rot.

Unfortunately, this moisture is trapped, to a large degree, by a finish that can no longer breathe. This situation eventually causes rot.  Any time moisture is allowed to build up within a log, the conditions for rot are ideal. (See "Why Do Logs Rot") For more information on how to restore the beauty of you log home finish, click here.
We see this problem allot and it tends to be on more modern, hand-scribed homes that have a type of finish that builds up a film with each application. These conditions can cause the "perfect storm" for rot because this build up of finish has formed a veritable 'plastic bag' on the outside of the logs - trapping moisture –and the logs can rot fast.
Sometimes we see buildings with this type of finish buildup on them when they are less than ten years old. In the case of newer homes like these, the logs have a relatively high moisture content to begin with (new logs are often green), which is compounded when the "film building" finish is applied. Problems can arise after even the second or third coat of this type of finish. Our experience has shown that many of these buildings start off with a finish that is breathable enough, but once the second or third coat is applied, the finish becomes too thick (buildup) and forms a barrier to the log breathing.
Two things will need to be done: 1) repair any damage that has accrued i.e. log replacement if necessary and 2) address the build up of finish on the logs. Most times this means getting rid of the current finish through cob or sandblasting.
Q: What are the advantages of sand or cob blasting over power washing?
A: Sand or cob blasting have a number of advantages over power washing. (Click here for more information.)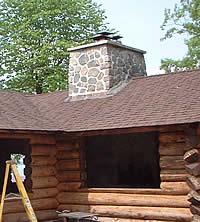 Q: My roof seems to be leaking around the chimney but it doesn't seem to be leaking where the roof meets the chimney. What could be causing this leak?
A: In most cases, leaks come from three different places. First, it could be leaking at the point where the flashing meets the roof line around the base of the chimney. Second, the masonry or rock itself could be cracked or improperly sealed, which allows it to soak up moisture. A third possibility is the lack of a properly installed chimney cap. A chimney cap is a cement slab poured on top of the existing masonry chimney. The cap acts as a roof for the chimney, keeping the majority of water off the chimney. It is also very important that the chimney be properly sealed around the mortar, stone or bricks to prevent leaking. Click here for more on how to properly install a chimney cap.
Q: I am putting on a new deck or replacing a deck on my existing home. How do I make sure my logs are protected from moisture surrounding my deck?

A: It is of the utmost importance that the transition between the logs and the deck be an absolutely watertight joint in order to prevent your logs from rotting.

This is accomplished, in part, with flashing. A cut is made into the logs 2-3 inches above the level of the top of the deck and about 2 inches deep, at an upward angle. Ice and Water Shield is then applied to the area just below the cut and extending to the lowest point of the deck framing. A coat of stain should be applied to the area where the deck is going to be attached in order to better protect this area. When the rim joist is applied, lag bolts should be driven into the logs thru the Ice and Water Shield. Once the frame of the deck is built, the flashing can be installed and then the decking. The last step in this process is to run a bead of chink or caulk along the upper edge where the flashing meets the logs. Click here for a drawing of the proper way to flash a deck to a log wall to prevent decay and rot of your log home.


Here is what can happen if the deck is not properly flashed.

Q: I see darkening or rotting adjacent to where a roof comes into an upper log wall. What can be done about this?
A: Improper flashing of these upper roof systems is one of the most common problems we encounter with log homes. If the logs are truly rotted, they must be replaced and then the roof system must be properly flashed. If the logs are merely weathered, then one can install flashing to prevent this weathering from happening in the future.
The place where a roof system meets a log wall is one of the most likely places for your roof to leak as well as a place where the logs see added moisture due to splashing from the roof or snow and ice piling up in this area. Making this flashing detail as "bomb proof" as possible is of the utmost importance in order to save the adjacent logs and to prevent a roof from leaking. Click here for a drawing of the proper way to flash an upper log wall to a lower roof system. You can give this PDF drawing to your deck builder.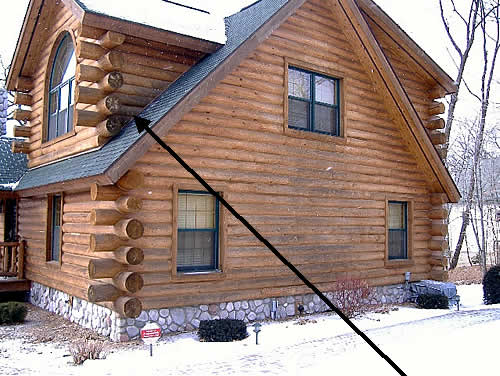 This is a place where rot can take hold due to improper flashing.
Edmunds & Company have been solving all types of problems with log buildings for over 30 years! Learn more about our company by clicking here.
Contact us to see how we can help with your log home or cabin. 1-877-378-4403


Some of our online documents require the Acrobat Reader™ for viewing and printing. You may download it for free here.